Yesterday Cady had her friend Mack over to fingerpaint. Fortunately Mack's mom made the fingerpaint edible since the mouth was the first place it went. Mack delved right into the paint and had it head to toe within mere seconds. Cady on the other hand, was a bit more tentative. She touched the paint (see second photo) and examined the texture before deciding what her next move would be. Strangely enough, they approach their snacks the same way. Cady eats her toast neatly from top to bottom. Mack goos his up and it's everywhere. One might say that the gender differences are displaying themselves already.
After the paint session, we had no choice but to throw them in the bath together when we realized that the blue food coloring was turning them blue. Even after Mack's mom wiped his face off, he looked badly bruised...not a good thing if she planned on stopping off on the way home! We figure, if anything, it'll be a great photo to share with them when they are in their awkward adolescent phase! HEHE!
Clean!
Cady checking out the texture of the painting...giving herself time to dream up her masterpiece!
Working on the Masterpiece
BEFORE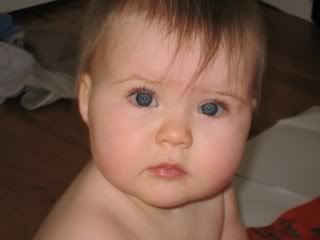 AFTER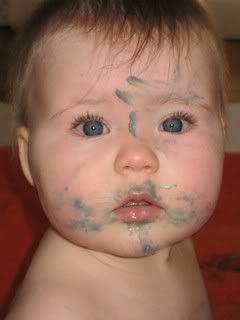 Cleaning up is almost as much fun as getting dirty!
Just a cute Cady pic